So, um...not my WIP Wednesday post. (Up tonight after I sew together the Supernova Blocks - promise!)
I've been eyeing off a couple of FQ sets from FatQuarterShop for a while now - the
Serene Tea Garden
:
and the
Tranquil Tea Garden
:
And now they're on special at ~20% off! And they're so pretty and bright and modern - I bet I could make some spiffy totes from them!
Except that I wasn't going to buy any more fabric this quarter...
My only planned fabric purchase in the next couple of months is the
Robert Kaufman Valley of the Kings in the Jewel Colourstory
: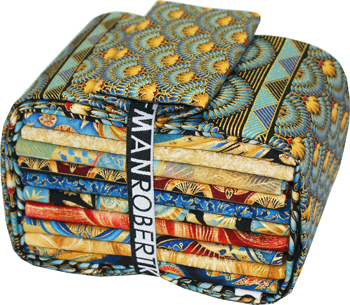 And I am hanging for that to come out so I can start a quilt for a friend of mine who's a big Egypt-fan - Jo Graham, author of the three books
Black Ships
,
Hand Of Isis
, and
Stealing Fire
, all set in or around Egypt.
Current intended recipients of quilts for 2011:
Mum
: I've promised her a quilt for several years now. Have the fabric (RK Imperial Collection 6-ish in Blue), think I have a design (fussy-cut disappearing nine-patch), need to get it done.
Alli S
: might like the Red-White-Blue Off-The-Rails modern railfence? Or else the Penny Patches postage stamp quilt?
Sue
: a scrappy mountain magic in harvest colours (June project when I get back)
Bec&Wes
: something in a traditional style with modern colours
Amy
: a traditional pattern, darker colours?
Lola
: whichever one Alli doesn't get?
Ali C
: traditional pattern, brighter colours.
Simone
: Birthday quilt - perhaps the railfence?
Lara
: Wedding quilt.
Jo
: RK's Valley of the Kings series in Jewel...and I haven't worked out a pattern yet.