So it's been a pretty exciting week. Not as busy as last week, but still pretty hectic.
I had friends over on Saturday and so had to clean up my quilting stuff (my sewing room is actually the lounge/dining space of our house). That put a dent in the time that I could be sewing, of course, although now the area looks wonderfully neat!
I got another block for my 'birthday quilt' in the LJ Birthday Block Swap, and received a package of fabric I'd ordered a fortnight ago.
And on Tuesday came the news that I'd won some quilting magazines in a giveaway at
Quilt Inspiration
!
FINISHED!
Shaz and A's quilt: Sunshine and Lollipops!
Now I just need to sew the label on, and then get it into the post... It's only two years late! :)
Gothic Summer Sampler
I did a hard push to get the blocks finished over the last week - I had 9 blocks and needed 16 for a four-by-four configuration. Cripes. That means I made 7 blocks in 7 days!
Evening Star:



Rocky Road To Kansas:



Denise's Star:



Breaking Out:



Pennsylvania:



Grandmother's Puzzle:



And Bear Claws:



And all together now, sewn with the vertical sashing:

I'm trying to decide on the colours for the posts. Then I'll just throw together a back and quilt and bind it very simply. In black, natch. :)
No Progress
Mum's ImpStar quilt
I received the next bundle of fabric for my mother's Imperial Stars quilt.
Unfortunately, it was the wrong fabric! Imperial Collection 7 instead of Imperial Collection 6! The seller had the wrong picture up on her etsy shop, and I looked at the picture rather than the description!
So I got this:
Instead of this: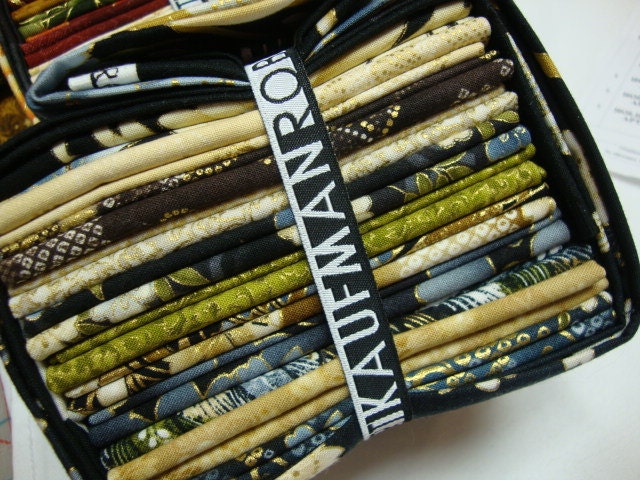 D'oh!
So now I'm stuck. I can't find Robert Kaufman's Imperial Collection 6 in any shops anymore, and most sellers only sell one or two fabrics out of the collection.
Do you have any of RK's Imperial Collection 6? I can't remember the colourstory, but it was blue and gold-cream and green. Would you be willing to swap fabrics? Or do you know of someone selling it and can direct me to them?
This quilt is a gift for my Mum and I was hoping to have it done this month. It can wait, but it's already waited longer than I like and I don't know where I'm going to find this fabric now that the major sellers have all sold out of it.
Binding to do
- postage stamp (from ps. i quilt's QAL in January this year)
- supernova (from freshly pieced QAL in April this year)
- modern rail fence
Planned Works

The Dead Simple QAL
I'm thinking of doing this with the Quilt Uber-Fest being planned for October, but I really have to pull my finger out and hunt up a
design seed
and the fabrics to match it!