Ah, November!
November is many things to many people. That last month before the Christmas Madness descends upon us all. Final exam time to the students of the Southern Hemisphere. Thanksgiving and Black Friday for the Americans.
And
National Novel Writing Month
(NaNoWriMo) to the authorially-inclined.
30 days. 50,000 words. One novel.
I've completed NaNoWriMo seven years out of the last nine I've done it, and the two times I didn't complete it, I was travelling through Europe. The problem is that I've never yet finished a story I've written for NaNo. Get 50K in, end up with a halfway finished story.
This year, I plan to finish not only NaNo, but also the story. It's all there, laid out in the notes.
In the meantime, there's still quilting to do! So much fabric and so little time!
Completed
The
Sanctuary Kaleidoscope
was gifted to actress Agam Darshi at the Armageddon convention down in Melbourne: she seemed to like it!
Alas, for I didn't take any photos of it once it was bound and done. So I don't have a pic of the finished quilt!
This is one of it unfinished, and being approved by my stepbrother's cat, Dara.
All in all, it was a nightmare to put together, but the result was pretty spectacular, I think. A bright and busy quilt, but also one you could look at many times and find something new each time.
I'd like to do this kind of kaleidoscope quilt again - but perhaps with some slightly less busy colours, and slightly larger blocks. And more accurate seams!
In Which Progress Is Actually Made
Bloggers' Uber-Quilt Festival
Went around to my friend
Jenn
's house on Monday night for a mini-quilting bee and got some cutting done for the next two blocks, so the pieces were all ready for me to sew together today!
Then I discovered that the 2.5" squares I'd cut for HSTs were supposed to be 2.5"
finished
squares...which required more cutting.
BAH.
Block 5:
Homes
by
Amy Lobsiger
:
Mum's Impstar
It's slow going on this - I haven't done anything on it in what feels like a month. however, Igot another two blocks done today:
If I could do just a couple a day, then I could have all the parts by next Wednesday, possibly even sashed and posted.
Standing Still
- Dead Simple QAL (backing to be done)
- Harvest HSTs (blocks to be trimmed and sewn together)
Planning stages
Charmed Prints QAL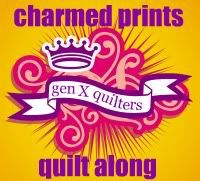 Yes, I need another QAL like a hole in the head. But they're so much fun! And simple! And pretty! And you can do a little each week!
I'll be using a layer cake rather than a charm pack - Odyssea by MoMo. Pictures forthcoming.
I have several other quilts on the 'ooh, I should really get around to that' queue, but they can wait for a quilt-planning post.
Other Sewing Things
And finally the project on which I'd been spending the last week. My steampunk outfit for Halloween!
Which didn't get finished in time.
So I went to the Halloween party Jenn gave in a 20s flapper girl dress.
However, this can be used for other cosplays. I have the skirt entirely done, but for the fastenings, and the jacket is 90% done, with just the sleeves and button/holes to go.
Pic with the bodice (not a real corset) that I bought to go with it:
I may have inadvertantly bought a very nice (proper, boned) corset to wear it with... *coughs*
Anyway, that's my WIP Wednesday! Where's yours?