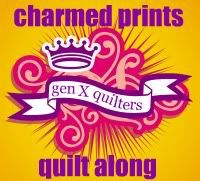 When looking at this QAL, I pretty much decided that the planned quilt size was too small from the get-go.
So I figured I'd use a layer cake instead of a charm pack and take it from there.
Cue the layer cake of Momo's Odyssea that I bought a couple of months back!
Lots of colours, lovely patterns, large prints and small prints and prints that are in-between...
The first instructions are due to be posted Tuesday US time, so...here's waiting!